We can barely contain our excitement as we announce the availability of version 2.3 of picTrove 2 pro. From the moment that they got their fingers on to picTrove 2 our customers have been demanding support for more services. This has always been something we've traditionally excelled at with picTrove, and today, we're happy to announce that we've added direct search results from six new services in version 2.3! We didn't just stop there, there's a whole lot of new features and improvements, read through for the details, or better yet, get the latest picTrove 2 pro from the App Store, now!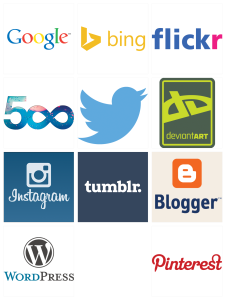 Major new features
Native search support for Instagram and deviantART. Web search support for Tumblr.com, Blogger.com, WordPress.com and Pinterest.com. Read more about this on our Multiple Services page.
New vertical layout option for browsing thumbnails from all services. It's great (and is the default) on iPhone devices. iPad users can turn on the Vertical Layout option in the picTrove settings screen.
New square thumbnail option for those who don't like the mosaic / masonry grid view of thumbnails. Turn on this option in the picTrove settings screen and all thumbnails show up in an equally sized, square grid.
Reworked slideshow mode with new OpenGL hardware accelerated transitions for the best effects possible.
Reworked AirPlay mode for better performance.
Reworked bulk export from picTrove saved photos to device photo library, now shows progress during the export.
The thumbnail browser now tracks your navigation in the full photo view; when you come back from viewing a lot of photos, the last photo you were on is shown centered in thumbnail mode.
Improvements & fixes
Faster startup for users with a lot of saved photos in picTrove.
Faster photo selection and drag-and-drop arranging in saved photos. Drag-and-drop arranging now also works even out of "Select" mode.
Fixed multi-word search which was not working from URL share extension
Improved smoothness of swiping between photos in full photo view
Stability and performance improvements